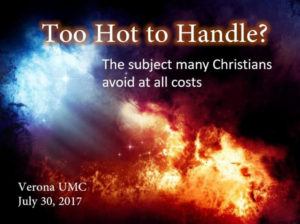 Too Hot to Handle? The subject many Christians avoid at all costs
     Let's face it. Most people avoid discussing unpleasant or controversial subjects at all costs (remember the rule – don't discuss religion and politics with your guests?). This Sunday I'll tackle what is perhaps the most unpleasant and controversial of all: the doctrine of Hell and eternal damnation.
     There are 21 references to a place of eternal separation from God in the New Testament and 11 of those references are made by Jesus. As unpleasant as it may be to discuss, this is a topic so central to the message of Jesus that it will not simply fade away by ignoring it. The reality of a place we call Hell is a key component in the story of our salvation from sin through the cross of Jesus Christ. May Sunday's message help us recover a biblical perspective on the ultimate consequences of human rebellion against God.
In Christ's Grace and Peace, Pastor Bob
Matthew 13:31-33, 44-51