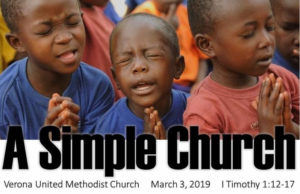 March 3, 2019 Simple Church
After four days of following the UMC's General Conference, I am longing for a return to the simple message of Jesus. Jesus told a stories and parables to make sure he was understood. He spoke truth even when it brought persecution. He spoke directly and with authority.
With all the complexities dividing our denomination, I felt moved to speak this Sunday of the Jesus style of church. A church where we keep the main thing the main thing. A church where we seek the plain truth of Scripture; unfiltered and unvarnished. A church where we can love each other and join each other in sharing the good news of Jesus without a thousand points of order blocking our way and with our eyes firmly focused on our eternal, all powerful God.
So I invite you to join us this Sunday as we explore the fundamental truths of what it means simply be the church in the midst of a complex, divided world.
Peace in Christ, Pastor Bob
1 Timothy 1:12-17