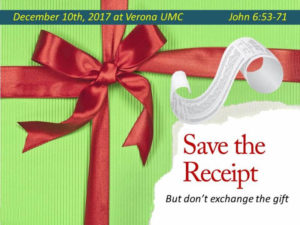 December 10, 2017 Save the Receipt, but don't exchange the gift.
            Have you ever received a Christmas gift and hung on to the enclosed "gift receipt"? You know, just in case you later decided the gift wasn't worth keeping or it was defective.
       Accepting the gift of Jesus Christ as Savior must be an absolute commitment. There isn't a trial period where you can exchange him for another savior if you're not satisfied. There is no comparable gift in the universe. So file away that gift receipt if you wish (better yet, tear it up), take up your cross and follow him. The longer you are with him, the deeper your love for him will grow.
       This week we continue our Advent sermon series focusing on the things we save each Christmas – gift wrap, gift receipts, and memories. Looking through the lens of the things we save at Christmas, we'll rediscover the Christmas story according to God's Word.
                                                                       In Christ's Grace and Peace, Pastor Bob
John 6:53-7