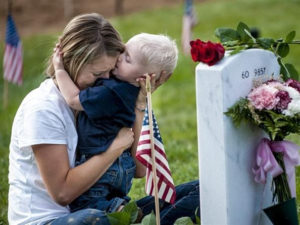 May 27, 2018 I Need To Make A Call
      Memorial Day is a sacred day in our nation. Like others in our nation, I mourn the sacrifice of my uncle Robert's life in Viet Nam and for my father whose wounds and battles with malaria and pneumonia plagued him until his death 20 years ago. Their sacrifices and the sacrifices of millions of others raise this day above all others on our nation's cultural calendar.
      But for a day to be truly sacred, truly set aside for holy purposes, it must first be dedicated to the One Holy God who reigns over every man, woman, and nation.
      I would ask that this Memorial Day weekend we let God "rise up" in our souls and speak to us of courage and sacrifice and obligation. I would ask that we do this not merely as an act of love of country and of those who sacrificed their lives in war, but as an act of love for the God who is the Father of us all and who weeps for each of His lost children.
      Let God rise up in our hearts so that the world might know his Holy Way and no longer walk in the paths of war – so that the sounds of battle may be overwhelmed by an everlasting chorus of peace in Jesus Christ.
                                     In Christ's Grace and Peace, Pastor Bob
Acts 4:23-31