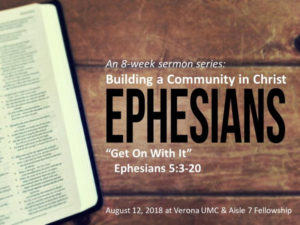 August 12, 2018 Get On With It
Be very careful, then, how you live—not as unwise but as wise, making the most of every opportunity, because the days are evil. (Ephesians 5:15-16)
"Making the most of every opportunity,…." Take a moment and think of the preciousness of every moment. Of every opportunity to do good. Of every door opened by God.
I heard a discussion on the radio yesterday on the subject of "free time" and how we all need more of it. For the Christian, however, there is no such thing as "free time." All time is owned by God, redeemed by the blood of Christ, and sanctified by the Holy Spirit. To live in Christ is to surrender our will to His and to offer up our minutes and moments as a holy sacrifice.
This doesn't mean we cannot spend time resting or relaxing or enjoying the beauty of God's creation all around us. It does mean that we should be wise in how we invest our time, seeking the leading of God's Spirit rather than the spirit of a world that often seems to be spinning out of control.
How are you taking advantage of every opportunity for the sake of the Gospel and a world that so desperately needs the light of Jesus Christ?
Grace and peace, Pastor Bob
Ephesians 5:3-20