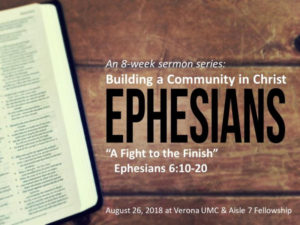 August 26, 2018 A Fight To The Finish
Sunday's sermon will be the last in our series on Ephesians – Ephesians 6:10-20 is a favorite of many preachers and Sunday School teachers. The images of the parts of a soldier's battle uniform forming a protective cloak against evil for a Christian are burned into many of our imaginations.
What daily spiritual disciplines do you employ to ensure that you are faithfully following Jesus Christ each and every day? Come this Sunday for a message from Ephesians on how you can best fortify your soul for the spiritual warfare encountered by every child of God.
Grace and peace, Pastor Bob