Dec 11, 2016
Hope to Your Future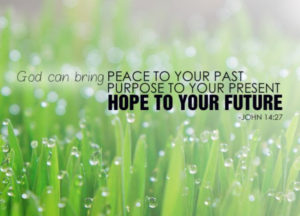 God can bring Peace to your Past, Purpose to your present, and Hope to your future. John 14:27
John the Baptist was a young man, probably in his late-twenties, when he began his wilderness ministry. To the common men and women of Judea he was a prophet in the mode of Elijah, sent by God to prepare the way for the promised Messiah.
This was his life's purpose - to share a message of hope in the One who would fulfill all God's promises. Thrust into prison by King Herod, his entire life's hope rested in Jesus. There were many signs and prophecies pointing to Jesus as the One. But before John's execution took place, his heart longed to know if his life's passions and exertions had been in vain. Did Jesus himself believe himself to be the Messiah?
Yes! When John sent a message to Jesus asking if he was the promised One, Jesus answered in unequivocal terms that He was the One. He pointed to his actions, his miracles, his fulfillment of prophecy.
Those same evidences, described in the world's most miraculous collection of writings, the Bible, are ours today. They remind us that ours is not a hope pulled out of thin air but firmly planted in reason and faith. May that hope grow in us all during this Advent season!
Watch
Notes
Download
Date
Title
Dec 11, 2016

Hope to Your Future

Dec 11, 2016

Hope to Your Future

God can bring Peace to your Past, Purpose to your present, and Hope to your future. John 14:27

John the Baptist was a young man, probably in his late-twenties, when he began his wilderness ministry. To the common men and women of Judea he was a prophet in the mode of Elijah, sent by God to prepare the way for the promised Messiah.

This was his life's purpose - to share a message of hope in the One who would fulfill all God's promises. Thrust into prison by King Herod, his entire life's hope rested in Jesus. There were many signs and prophecies pointing to Jesus as the One. But before John's execution took place, his heart longed to know if his life's passions and exertions had been in vain. Did Jesus himself believe himself to be the Messiah?

Yes! When John sent a message to Jesus asking if he was the promised One, Jesus answered in unequivocal terms that He was the One. He pointed to his actions, his miracles, his fulfillment of prophecy.

Those same evidences, described in the world's most miraculous collection of writings, the Bible, are ours today. They remind us that ours is not a hope pulled out of thin air but firmly planted in reason and faith. May that hope grow in us all during this Advent season!

Dec 4, 2016

Lord I Will Wait

Dec 4, 2016

Lord I Will Wait

Lord I will wait. So what is patience for the believer in Christ? Matthew 3:1-12

Nov 27, 2016

Great Expectations First Sunday of Advent 11AM

Nov 27, 2016

Great Expectations First Sunday of Advent 11AM

Great Expectations Chad Brown November 27, 2016 11AM Service

Nov 27, 2016

Great Expectations First Sunday of Advent

Nov 27, 2016

Great Expectations First Sunday of Advent

Great Expectations Judith Cariker November 27, 2016 8:30 Service

Nov 6, 2016

I Wanna Go Home

Nov 6, 2016

I Wanna Go Home

Homecoming and All Saints Sunday Message

Nov 2, 2016

Homecoming Revival Randy Tucker

Nov 1, 2016

Homecoming Revival David Burch

Oct 16, 2016

Good Samaritan Church

Oct 16, 2016

Good Samaritan Church

In 1 Peter 2:21, the Apostle who was with Jesus from the beginning of his ministry said: "You were called to this kind of endurance, because Christ suffered on your behalf. He left you an example so that you might follow in his footsteps."

[caption id="attachment_3473" align="alignnone" width="300"]

The Good Samaritan Church[/caption]

Mar 27, 2016

Victory in Jesus

Mar 27, 2016

Victory in Jesus

Mar 20, 2016

Our Best Efforts

Mar 20, 2016

Our Best Efforts