Mike was a big, blunt, burly man of Irish heritage who would often refer to me as "a piece of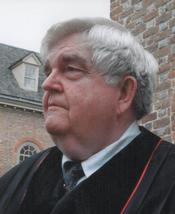 work." We once drove together from Portsmouth, Virginia to Ginghamsburg, Ohio for a church conference. Settling into the driver's seat for the ten-hour journey, I reached over and powered up the radio —Mike immediately reached over and punched the power button off. Said he couldn't stand the noise. Mipowahami . I said I couldn't stay awake without it.
Mike won.
In close proximity for ten hours, I began to count the ways Mike and I were like the proverbial married couple who had little in common except the journey they were doomed to complete together. It was a long list. Roepromazperdu But in the end I  realized there were two things we shared that trumped all the dissonance in our relationship: Mike loved Jesus and he loved being a pastor.
At our Virginia UMC's recent annual conference in Hampton, we remembered Mike and dozens of other pastors and their spouses and church lay leaders who, in death, had joined the church eternal and triumphant. I last saw Mike in Roanoke at last year's conference. His health was slipping but he was still bigger than life. He served only one small congregation in his relatively short ministry as a "second-career" pastor. But he served as if all of God's Kingdom depended on the faithfulness of his small but beloved flock.
After the memorial service on Friday evening, I returned to my hotel room and read my scripture passage for the day, an excerpt from the second chapter of the apostle Paul's first letter to the church at Corinth, where he reminds that fractious group of surly Christians that: "What no eye has seen, what no ear has heard, and what no human mind has conceived"—the things God has prepared for those who love him—these are the things God has revealed to us by his Spirit."
Late in life my friend Mike heard God's Spirit calling him to pastor a small congregation. That was God's retirement plan for him. I am certain that Mike's human mind had never "conceived" such an outcome for his life after years as a banker.  But one day Mike laid his life before the Lord and heard the Spirit reveal the things God had planned for him. Mike, the church member who had once told his pastor that he didn't care to serve on committees, much less chair them, discovered that God wasn't going to let him go quietly into the night—that he had things prepared for him yet to accomplish.
Can you hear his Spirit calling? Can you feel the fire burning? God is not done with you yet!