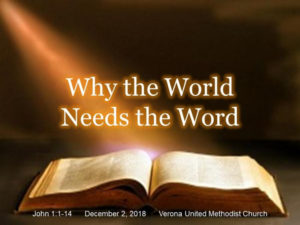 December 2, 2018 Why the World Needs the Word
We begin a new sermon series for Advent this Sunday based on the Gospel of John and its focus on the person of Jesus Christ. Just who was Jesus and why should he matter to me? No other questions are more important to every human being than these. In John we discover that long before he was born in Bethlehem, the Son of God was present at the very creation of the universe. Not only was He present, everything that came into existence did so through Him!
And now, having lost our way through the fall of Adam, Jesus the Savior has come into the world as the Way, the Truth, and the Life. He is the light by which we find our way out of the darkness. He is the Bread of Life by which our very souls are nourished.
I hope you'll come each Sunday in December as we anticipate and celebrate the coming of Jesus into the world!
Peace in Christ, Pastor Bob
John 1:1-14