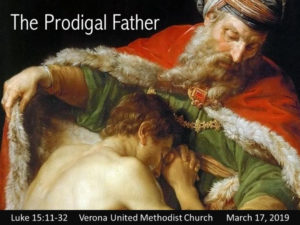 March 17, 2019 The Prodigal Father
How great is God's love! In Luke 15, Jesus describes His Father's love in three successive parables. In the first, a shepherd finds his lost sheep and throws a party.In the second, a woman finds her lost coin and throws a party. In the third, a father's lost and wandering fun returns home and THE FATHER THROWS A PARTY!
If Luke 15 is accurate, then heaven must be a continual party where angels rejoice when a sinner repents and God the Father rejoices when the lost are found.
Come this Sunday as we continue our Lenten sermon series on "Redemption" with the familiar story of "The Prodigal Son" from Luke 15. [Did you know that the word prodigal does not mean lost or wandering. It means "wasteful extravagance."] While the common title to this story puts the emphasis on the younger son, there is another way of hearing the story that puts the focus on the father. That will be our focus this Sunday.
Looking forward to being together in worship!
Peace in Christ, Pastor Bob
Luke 15:11-32