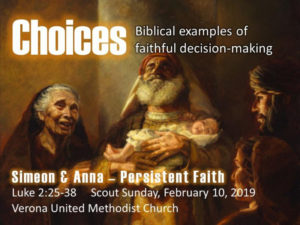 Feb 10, 2019 Simeon & Anna – Persistent Faith
Sermon Series: Choices – Biblical examples of faithful decision making
Did you know that Sir Edmund Hillary, the New Zealander who conquered Mount Everest in 1953 with his Sherpa guide Tenzing Norgay, was a beekeeper? His family owned 35 apiaries consisting of 1,600 beehives! As a teen-ager and adult working with his dad and brother, he would average between 15 and 100 bee stings a day!
That's right, the world's most renowned mountain climber made his living at beekeeping most of the year, leaving the winter months to sharpen his climbing skills. Eventually, his persistent dedication to his goal of conquering the world's highest peaks would be his greatest fame. But when asked about his incredible work ethic and persistence, he credited the hard, hot, mundane work of lifting and caring for the beehives. His willingness to do that work was in part due to his love for the bees themselves. He wrote in one of his many books: "The spring and summer, when the bees were gathering nectar, was a time of great excitement."
As most of you know, I love bees (not to the point that I go around hugging them, but you know what I mean). And one thing I know after years of being around beehives is that bees are incredibly persistent. To be a successful beekeeper you must adopt a bee's attitude of persistence. To be a faithful follower of Jesus, it doesn't hurt to wed that same attitude of persistence to your faith.
In this week's sermon passage from Luke 2, we learn of the prophetess Anna who spent years at the temple in Jerusalem waiting for the "redemption of Jerusalem" to come. Her persistent faith – no doubt dismissed as a desperate zealousness by many in Jerusalem – was rewarded when Mary and Joseph presented the infant Jesus at the temple. Anna's joy in life was more than complete.
How persistent is your faith? How dedicated are you to the holy life Jesus has called you to? How does that faith influence your choices in life? If we learn anything from the bees and the prophetess Anna and Sir Edmund Hillary, it is that wise choices are only made when accompanied by a persistent belief in God's call upon your life.
Our Sunday morning sermons in January and February are focusing on CHOICES. Like Joseph, Moses, Jonathan, and other people of faith in the Bible, our United Methodist denomination has some critical choices to make in the near future. Over 800 delegates from around the world will meet in St. Louis at a General Conference of the UMC in St. Louis from February 23-26 to attempt to make decisions around the issues of human sexuality and biblical authority that divide our church.
As we pray for this conference and God's will to be done, it seems wise to turn to the Bible and study the men and women who, in their own time, made the critical choice to follow God.
Please pray and ask for God to guide us all in the coming days.
Peace in Christ, Pastor Bob
Luke 2:25-38