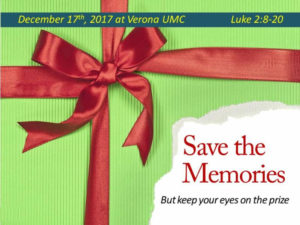 December 17, 2017 Save the Memories, But keep your eyes on the prize.
      In 1985 Salem High School was a powerhouse in football. The only thing they hadn't won was the state championship. Enthusiastic about their team and believing that a long string of state championships lay ahead, the city invested 2.2 million dollars in a 7,500 seat stadium that was better than many small college stadiums and certainly better than any other high school stadium in Virginia.
       The years went by and Salem repeatedly failed to win the state finals. In 1991 they played my son's team from Spotsylvania in the championship game and fell again. It wasn't until 1996, eleven years after the stadium was built, that they finally achieved their goal of winning the title game. Since that time they have nine state championships in football and the stadium hosts championship games each fall, including the Division III College Championship game.
       I'm sure that the eleven years between the building of the stadium and the first Salem High School championship were tough years. I can imagine people saying they had wasted their money, that the dream was just a dream and that the team would never win the big one.
       That must have been how many people in Israel felt before the birth of Christ.They had a huge temple that was one of the wonders of the world. They had the promises of the prophets that a Messiah was coming who would turn their losses into victories. But where were those victories? When would they win the big one?
       It's important in life to never lose our faith in the promises of God. We look back and hold fast to the memories of what he has done in the past. But it is our hope in Jesus that keeps us holding on.
                                                                 In Christ's Grace and Peace, Pastor Bob
Luke 2:8-20