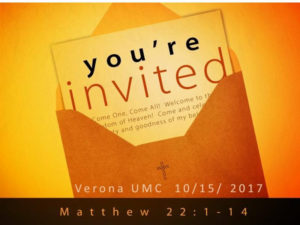 October 15, 2017   "Please Accept This Invitation"   Matthew 22:1-14
Some years ago I officiated  a wedding for a couple who put a tremendous amount of effort into their wedding ceremony. They sent out invitations to over 200 of their friends and family and acquaintances. They even rented horses to ride away on at the end of the festivities.
As I stood with the groom, ready to make our entrance into sanctuary,, he peered out at the nearly empty pews and quietly whispered, "Where is everybody?"
My heart broke.
This Sunday we'll take a look at a parable in Matthew's Gospel that addresses a situation where many are invited to a wedding feast but few attend. The point of the parable is that our Father in Heaven has also invited us to a wedding feast – have we accepted his invitation and are we prepared to attend?
         In Christ's Grace and Peace, Pastor Bob