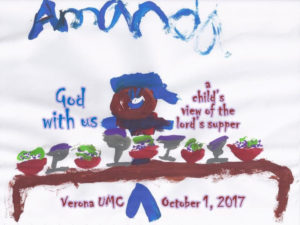 October 1, 2017 Is the Lord Among Us?
There are those who believe that sharing Holy Communion requires a certain amount of intellectual understanding and/or holiness. From the beginning, many have erected fences around the table of our Lord, often with the good intent of protecting it. But Jesus came to break down walls, not build them, and there are no human beings more worthy of coming to His table than those we call children.
And who better to testify to the place of children at his table than our Lord himself. In Matthew 21, the chief priests and teachers of the law hear children calling out in praise of Jesus. They are indignant. But Jesus quotes the Scripture to them that says, "From the lips of children and infants you, Lord, have called forth your praise." In Luke 18, Jesus scolds his disciples for preventing children from coming to him. Despite whatever personal disdain we may have for children, Jesus values them highly and invites them into his presence.
Let's follow his example this Sunday.
In Christ's Grace and Peace, Pastor Bob