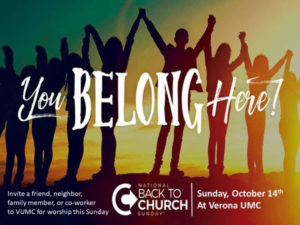 October 14, 2018 I Love My Church – Here's Why!
There was a point in my life where I had given up on church. Brought up as a twice-on-Sunday, once-on-Wednesday church goer, I finally had had enough somewhere in my early 30's.
After moving into a new community, my wife and I were having a hard time finding a church where we felt truly welcome. I had been a Bible major for a while in college and was a life-long student of the Bible so I set a high bar for a church's doctrines and beliefs. I came to a point where I truly despaired of ever finding a church home again.
So I avoided church on Sundays for a year or so. We were living on a farm and there were lots of chores to catch up on every weekend. I even adopted the excuse used by many good men that "I can be just as close to God out in nature as I can in a church sanctuary."
Obviously (since I'm a pastor now), at some point I did join a church. Amazingly, it was a small, rural United Methodist congregation, part of a denomination that I had always assumed wasn't for me. After all, the Methodists in my hometown used to host dances for their youth – obviously they were not taking God's Word seriously!
So why did I join that particular church? What was the difference between that small United Methodist church with about 30 members and every other church in town, most with beautiful sanctuaries and programs galore? It was because we belonged there. We just knew this was where God had led us.
Yes, the church we chose (or God chose for us) had a preacher in his 70's, a dying Sunday School program, painfully uncomfortable pews used as tables for amputations during the Civil War, and a bathroom that could only be accessed by walking outside and into another small building.There was even an organist who left her bench precisely at noon each Sunday lest she miss her tee time at the golf course. (I'm serious, she would get up and leave before the final hymn if the preacher was too long-winded).
Still, this is where God had led us. Despite its many shortcomings, this church was filled with divine love. And it was in that small church that I fell in love with God and his church again. It was there that God called me to become a Pastor. It was there that God reminded me that we weren't meant to follow Jesus alone.
We all need a place to belong so that we can become the person God wants us to be. A place of love and grace where the Good News of Jesus is preached and the Scriptures heard and obeyed by the grace of God. I believe Verona UMC is such a place. That's why I love my church!
Grace and peace, Pastor Bob
Psalm 84:1-4