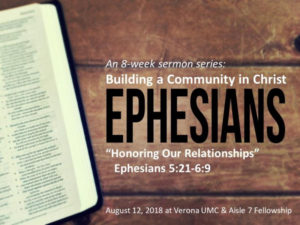 August 19, 2018 Honoring Our Relationships
Our sermon scripture text for this Sunday – Ephesians 5:21-6:9 – contains some of the most argued-over passages of Scripture in all the Bible.
Paul addresses the nature of human relationships that too often turn into battlegrounds – relationships between husbands and wives, parents and their children, even slaves and their masters. Where many people approach these relationships from a perspective of personal power, Paul presents a different perspective – a perspective that begins and ends with the life, sacrifice, and reign of Jesus Christ.
How do we honor the relationships in our lives? Come Sunday for a message on doing just that from Paul's letter to the Ephesians.
Grace and peace, Pastor Bob
Ephesians 5:21-6:9