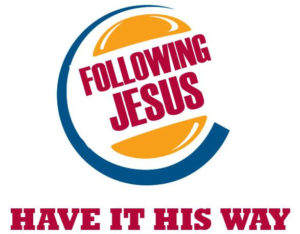 September 3, 2017 Have it HIS way
      This Sunday's message tells an amazing story. Peter has just become the first disciple of Jesus to openly declare Jesus is the Son of God. Then Jesus proceeds to tell his disciples about the dark times ahead, including his betrayal and crucifixion. Peter's reaction? "God forbid… that cannot happen to you!" In other words, Peter openly denies the authority of Jesus just moments after declaring his deity.
      This isn't the Bible's only example of human beings trying to tell God what to do. On Sunday we'll examine some of those passages, take a look at God's responses, and ask the question, "What would my life be like if I always insisted that God let me have things my way?" Burger King's slogan may work fine for burgers, but having it our way – and not God's way – is a certain recipe for a disastrous life.
                                                           In Christ's Grace and Peace, Pastor Bob
Matthew 16:21-28