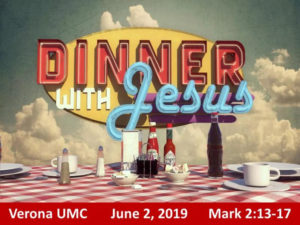 June 2, 2019 Dinner with Jesus
This Sunday, June 2nd, we begin a summer sermon series through the Gospel of Mark. Preparing for this series has impressed me with the absolute focus Jesus had on his mission. He came to seek and save the lost and that is still the mission focus of the church, the Body of Christ. I hope you will be around as much as possible this summer to grow in faith through the Gospel of Mark.
Remember…. Every day we serve and worship a risen Savior… may our hearts be filled with praise for the Christ who is alive in our church!
See you in worship, Pastor Bob
Mark 2:13-17