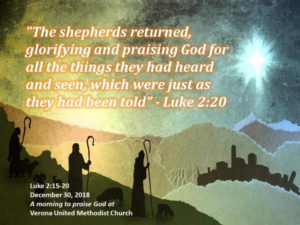 December 30, 2018 Devotion for the New Year
This Sunday is the last Sunday in 2018. As we approach 2019, we will turn our hearts toward praising God in song and prayer at both services at VUMC. Come prepared for a special time of "old-fashioned" carol and hymn singing. 
For those still on vacation or who for other reasons will not be able to attend worship services on December 30th, may God bless you in this last days of 2018 and strengthen you with hope and faith in the new year!
Peace in Christ, Pastor Bob
John 3:16-21