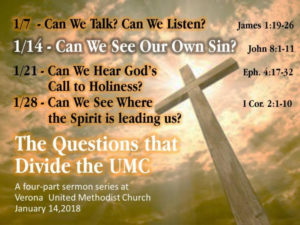 Jan 14, 2018 Can We See Our Own Sin?
There are so many good things happening this month at Verona UMC. We just started a Sunday morning confirmation class for our youth and a new Sunday evening Bible study for adults. Through January from 5 to 6 p.m. I've invited anyone who wished to come and discuss that day's sermon to meet with me in the sanctuary. And on January 27th Bishop Lewis will be with us from 8:30 am to 2 pm for discussions around a way forward for The United Methodist Church.
There is also, of course, the return to a more regular routine after an event-filled Advent and Christmas season. B.L.A.S.T. for our children began again on Sunday evening and choir practices are back to their regular schedule.
I hope and pray you'll take advantage of any of these classes and events that will help you in your walk with Christ!
I also hope you will continue to pray for our congregation and United Methodist churches throughout the world as we move toward a specially-called General Conference in February 2019 to determine God's will for The United Methodist in the future.
______________________________
During the month of January we'll focus on the issues that The United Methodist denomination has been struggling with for decades and whether there is a clear road forward toward reconciliation and unity. This sermon series is as important and difficult as any I've ever preached – let's all be in prayer together as we hear God's Word and will. While the issue of homosexuality has taken center stage as the heart of our division, I believe there are other deeper issues that must be addressed, including biblical authority and the place of Jesus Christ as the Son of God and Lord and Savior. I hope you'll come and listen and then join me throughout January on Sunday evenings from 5 to 6 p.m.. in the sanctuary for a time of questions and discussion.
In Christ's Grace and Peace, Pastor Bob
John 8:1-11